In memory of Sasha Kuznetsov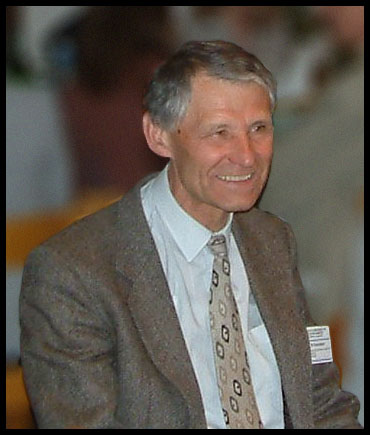 Only two days ago I came back from a visit abroad to the sorrowful news that our long-time good colleague and friend, a sparkling and noble personality, Alexander Mikhailovitch Kuznetsov, to me and many others, Sasha, had passed away. This leaves us with a heavy loss and deep scars in our hearts, and we express our deepest sympathy with his nearest family, Juliya and Ilya.


I can look back at nearly 40 years of close, unusually rewarding scientific cooperation and friendship with Sasha. I shall always be grateful to the Frumkin Institute for hospitality during my first long stay in 1971 and later on. In 1971 I first met Sasha and also both Juliya and Ilya for the first time. I was at first more closely associated with the late Yurij Kharkats and with Alexei Kornyshev but I got to know Sasha closely when he came to Denmark in June 1976, on the first of what were to become a long series of successful visits. Arranging such a visit in those days was not trivial and suddenly seeing Sasha in Copenhagen airport was exciting. Our work over that first short period was also to be characteristic for all our later joint achievements. Sasha's utterly positive and outward enthusiasm quickly spread around him and with me as a receptive kind of slightly younger brother in science we managed to come to an impressive amount of new joint results and insight in a surprisingly short time. It was also as if June 1976 added the perfect environment to those days of young enthusiasm with extraordinarily enchanting, almost magic midsummer evenings where he and I walked along the beaches and in the woods around our summer cottage and talked about our science and all sorts of other things.


I came to enjoy the great fortune that these early days initiated a long time of inspiring friendship and scientific collaboration with Sasha. He came to Denmark a number of times. Our families came to enjoy mutual friendship and I was fortunate together with Sasha to be engaged in most inspiring science with rewarding output. He had an extraordinarily strong background in mathematics and theoretical physics. Coming myself from a background in chemistry I was struck over and over again by the apparent ease and elegance with which he resolved novel complicated but highly relevant problems and managed to cast them into elegant and transparent formalism. This applied both to his own realm of molecular charge transfer phenomena but also in his interests in broader areas of condensed matter chemical physics. It appeared not to take much before the ideas came to him. He once told me how he came to understand the issue of dynamic ionic strength effects on chemical electron transfer processes (a very non-trivial problem, I can tell you): "I was thinking about this problem and then a solution suddenly came to me whilst I was travelling in the bus…." He then went back home and wrote the whole solution in a most elegant and transparent fashion. There are many other examples like that.


Sasha had the fortunate gift of fate to possess a highly developed sense of grasping in no time the nature of important chemical physics problems and formulating them in attractive analytical formalism. He also professed in highly skilled mathematical-physics craftsmanship. He never made mistakes in his mathematics. Often enough he and I would set out to express in parallel charge transfer phenomena in new mathematical formalism and almost equally often enough we would come out with different results. As a rule, Sasha's versions would turn out to be the correct answers but there were a (very) few times when it was the other way round. I was quite happy and proud of myself because I felt that I was perhaps beginning to learn a bit from Sasha's mathematical dexterity.


In our more mature age Sasha and I, also joined by Igor' Medvedev were fortunate that we could develop ideas in new areas of charge transfer processes at the single-molecule level, of some importance in single-molecule electrochemistry and conductivity. I am happy to see that these ideas have received some response in the international scientific community and also that we could follow it up by experimental studies. We had planned new joint efforts in these areas in the immediate future but sadly enough, this development will now have a different character with Sasha no longer among us.


Sasha enjoyed high and increasing international respect. He also developed into a fine lecturer both at conferences and in classes. I had the privilege jointly with Sasha to run a Ph.D. course on molecular charge transfer theory. Matters all of a sudden seemed straightforward also to students when explained by Sasha. His tutorial skill is reflected in his books thoroughly written in good plain prose. He was also awarded some international recognition. I was really excited the evening in 1994 when he was elected foreign member of the Royal Danish Academy of Sciences and Letters. He also received the prestigious Humboldt Professorship and a Leverhulme Fellowship. I know that he was happy to learn that his colleagues in Russia and countries where he had worked were enjoying support in their efforts towards his award of the Frumkin Memorial Medal of the International Society of Electrochemistry. Sadly, his premature death prevented him from receiving this well-deserved award.


Recalling now many past moments and hours spent with Sasha, so many overtones come to mind. An absolutely brilliant scientist, a sparkling, witty and joyful colleague, caring to his family, his friends, students and his fellow-men. We are grateful for having had the chance to work and be friends with this warm and inspiring personality and the dear memories of Sasha will be with us until the end of our days. Our deepest sympathy now goes to Julia and Ilya.
Jens Ulstrup
Technical University of Denmark, DTU-Chemistry
Copenhagen, 15 February, 2009
---

Back